Our energy for
a sustainable life
At RWE we are fully committed to working towards circularity and net-zero emissions. Wind power is one of the cornerstones of the green energy transition.
With more than 600 gigawatts of new capacity to be installed worldwide in the next five years, it is important for the wind industry to reduce its carbon footprint. RWE has a clear target: to get to net zero by 2040. On its way there, the company has set itself ambitious targets for all activities that cause greenhouse gas emissions. The Science Based Targets initiative has confirmed that these emission reduction targets are in line with the Paris Agreement.
Very much in the spirit of the company's purpose: Our energy for a sustainable life.
RWE is known for its innovative approach to renewable energy production and invest in new technologies to optimize energy efficiency and reduce CO2 emission.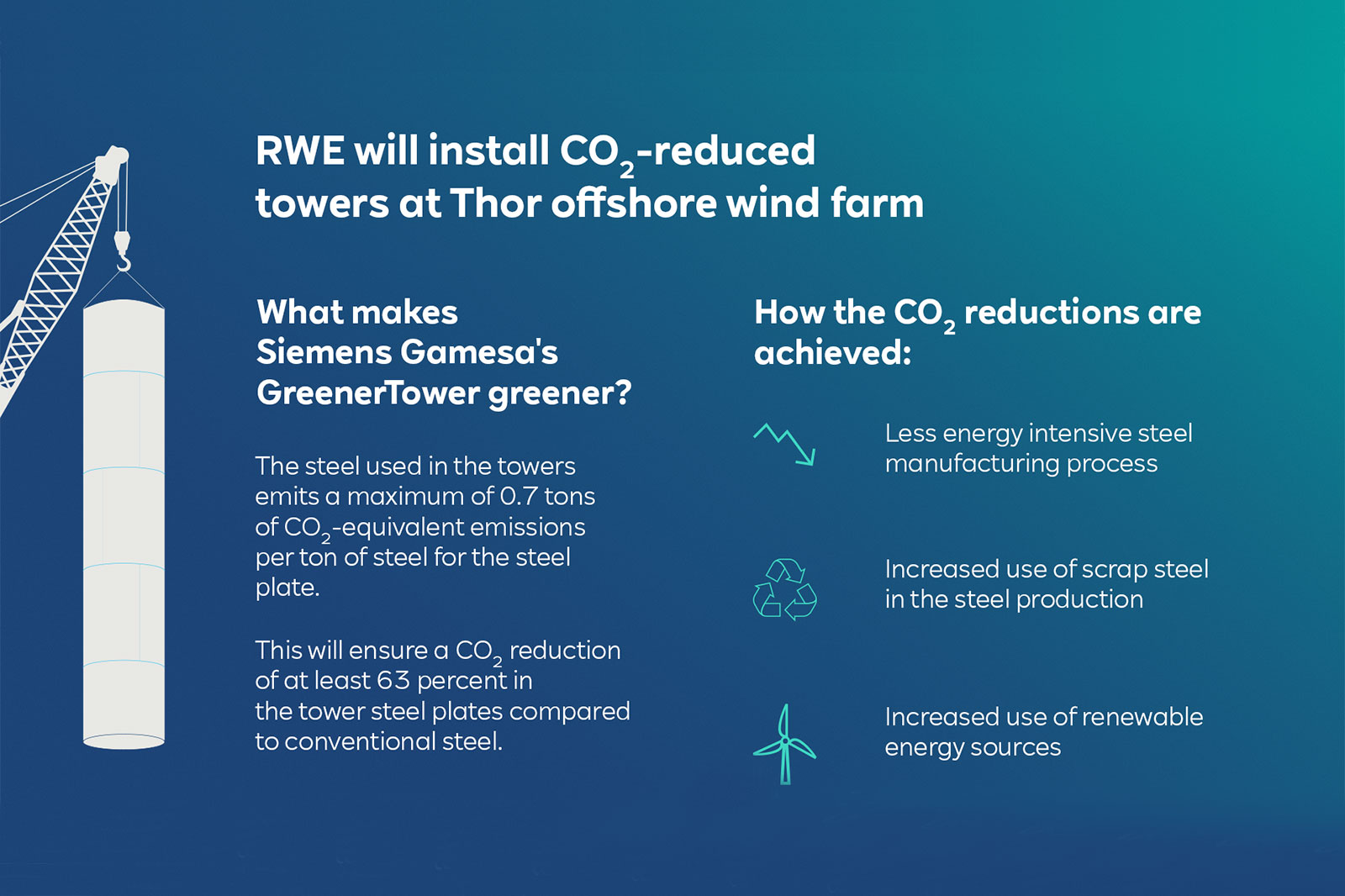 GreenerTowers
RWE is the first developer in the world to utilise Siemens Gamesa's GreenerTower at Thor offshore wind farm. The tower steel plates are made of greener steel that produces at least 63 percent less CO2 emissions compared to conventional steel. 36 of the 72 wind turbines will be equipped with the lower-carbon steel towers. Offshore Wind already has one of the lowest life-cycle carbon footprints of power generation technologies. However, tower production accounts for around one third of all wind turbine-related CO2 emissions.
Thus, using greener steel is a significant step towards producing even more sustainable wind power.
Third-party certification will verify that a maximum of just 0.7 tons of CO2-equivalent emissions are produced per tonne of steel in the new, GreenerTower, while the same steel properties and quality are maintained. As one of the measures to decarbonise steel production, the electric furnaces will be fed with green electricity produced by renewable energy sources. Other means include the use of scrap steel in the production process, substituting iron ore and reducing the energy intensity of the overall process.
Installation offshore is expected in 2026.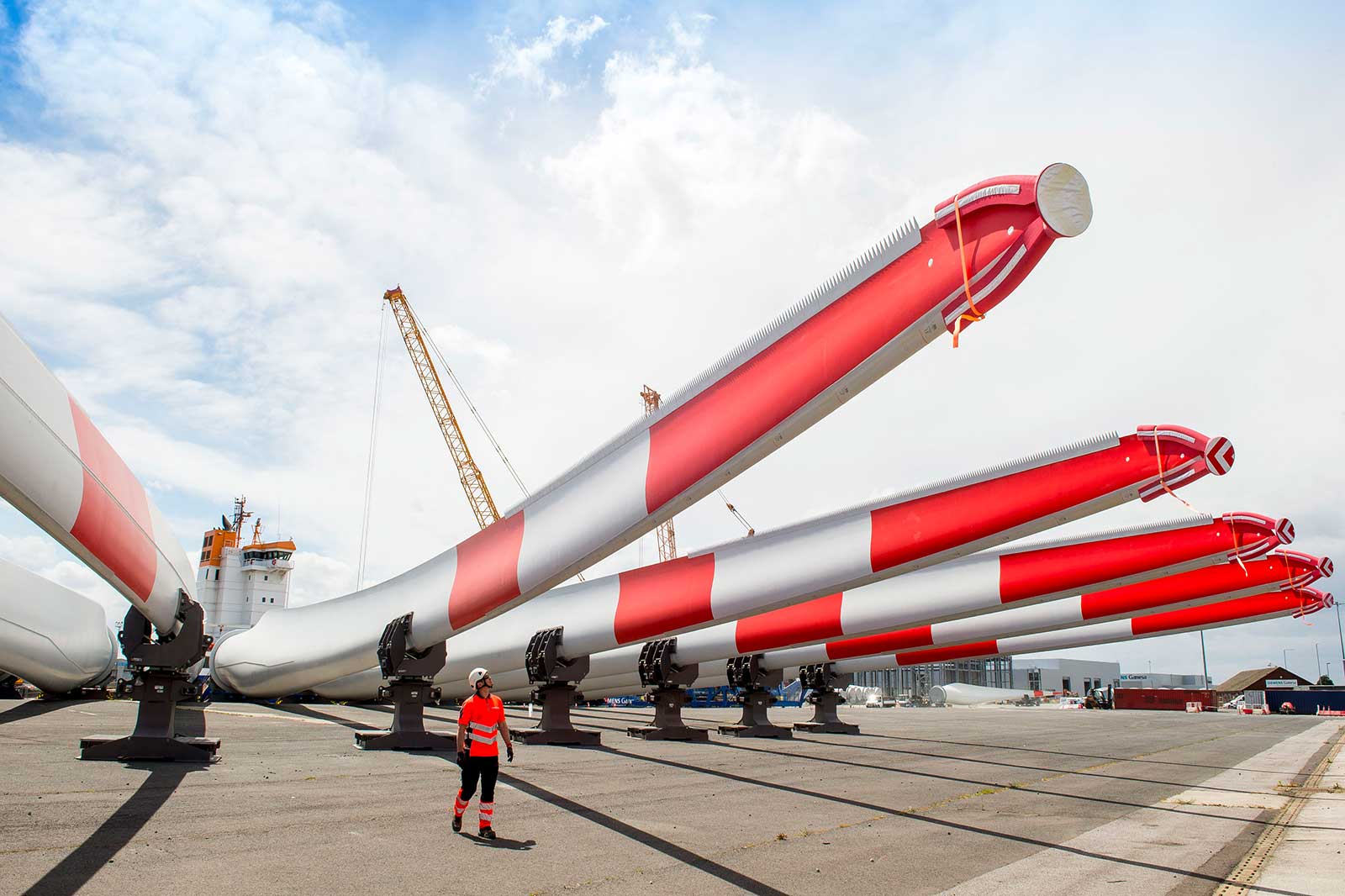 Recyclable blades
40 of the 72 (SG 14-236 DD) wind turbines will be equipped with the worldwide-first recyclable rotor blades manufactured by Siemens Gamesa. At RWE we are fully committed to working towards circularity and net-zero emissions. We are already testing the world's first recyclable wind turbine blades under real-life conditions at our German offshore wind farm Kaskasi and we have decided to install them at Sofia. By using these rotor blades at our Thor offshore wind farm, too, RWE continues lead the way towards a circular offshore sector.
More than one million tons of blade material are expected to be installed globally every year. Our recyclable blades can avoid those materials ending their life in a landfill and give them a second use.
While many components of a wind turbine already have established recycling practices, recycling the composite materials used in wind turbine blades has been more challenging. Now, for the first time, thanks to a new type of resin with a special chemical structure the composite materials used in Siemens Gamesa's recyclable blades can be separated again. This process ensures that the properties of the individual materials remain intact so that they can be reused in new casting applications, for example in the automotive industry or in consumer goods.
Installation is also expected in 2026.
Sustainability in the local communities
In the coming years, offshore wind will be built on a huge scale in Danish waters. Therefore, we need to think about sustainability in terms of local inclusion to contribute positively to the local communities. RWE intends to use the skilled local workforce during both the construction and commissioning of the project, both in port and offshore.