Project information
Progress is being made on Thor, Denmark's largest offshore wind farm to date. Thor will be in operations by 2027.

End 2021
RWE secures concession for Thor offshore wind farm.
×
End 2022
Announcement of preferred suppliers.
×
Start 2023
All main components are secured. Announcement that RWE will be first developer globally to install GreenerTowers at Thor to drive wind power sustainability. Groundbreaking for the onshore substation.
×
Mid 2023
Announcement that the worldwide-first recyclable blades will be installed at Thor to drive sustainability.
×
Start 2022
Agreements signed: concession agreement to build Thor offshore wind farm and grid connection with Energinet is signed. Port of Thorsminde is selected as Operations & Maintenance base.
×
Latest project news
Are you looking for project news and press releases on Thor? Whether you are looking for press releases or media contacts - here is where you will find all information.
Components and innovation
The Thor offshore wind farm will comprise a number of key components that will all work together to generate, transmit and convert green energy to be fed into the National Grid. It requires state-of-the-art technology and innovative engineering and each component has to work seamlessly with the others, each playing a pivotal role in the success of the project.
Wind turbines and foundations
Siemens Gamesa will deliver 72 offshore wind turbines (SG 14-236 DD). 36 monopile foundations will be manufactured by EEW SPC and further 36 monopile foundations and secondary structures will be delivered by Dajin Offshore. The foundations, which are up to 100 metres in height, will each weigh approximately 1,500 tonnes. The Danish-British engineering company, Wood Thilsted, designs the foundations. Jan De Nul Group will provide the vessel for the foundation installation works, which are expected to be carried out in 2025.
Fred.Olsen Windcarrier will provide the vessel for the turbine installation. The installation work is scheduled to start in 2026. Both RWE and Siemens Gamesa intend to draw on the skilled local workforce during both construction and commissioning of the project, both in the harbour as well as offshore.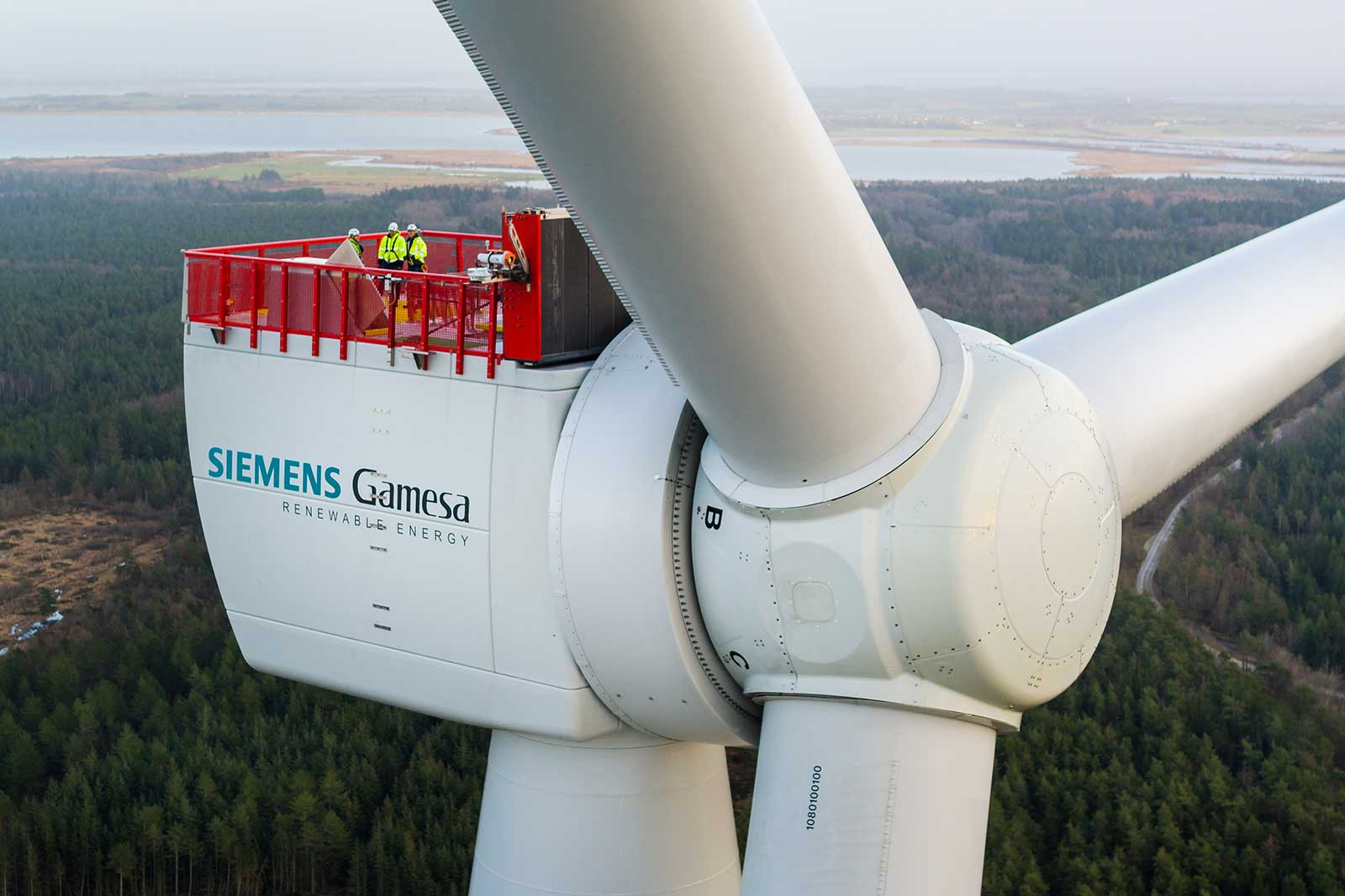 72 turbines SG 14-236 DD
Height: 266 m
Rotor diameter: 236 m
Blade length: 115 m
Hub height: 147,6 m
Total weight: 1,658 ton
×
Worldwide-first recyclable rotor blades
40 of the 72 (SG 14-236 DD) wind turbines will be equipped with the worldwide-first recyclable rotor blades manufactured by Siemens Gamesa. For the first time, thanks to a new type of resin with a special chemical structure the composite materials used in Siemens Gamesa's recyclable blades can be separated again. This process ensures that the properties of the individual materials remain intact so that they can be reused in new casting applications, for example in the automotive industry or in consumer goods.
×
First mover on GreenerTowers
As the first developer in the world, we are pilot Siemens Gamesas GreenerTower(s). 36 turbines will be equipped with these CO2-reduced steel towers. The GreenerTower(s) will ensure a CO2 reduction of at least 63 percent in the tower steel plates compared to conventional steel. 160.000 tonnes steel will be used for the turbines. This is more than 2 times the Great Belt Bridge. By being the first developer in the world piloting these towers, RWE makes a significant step towards producing even more sustainable wind power.
×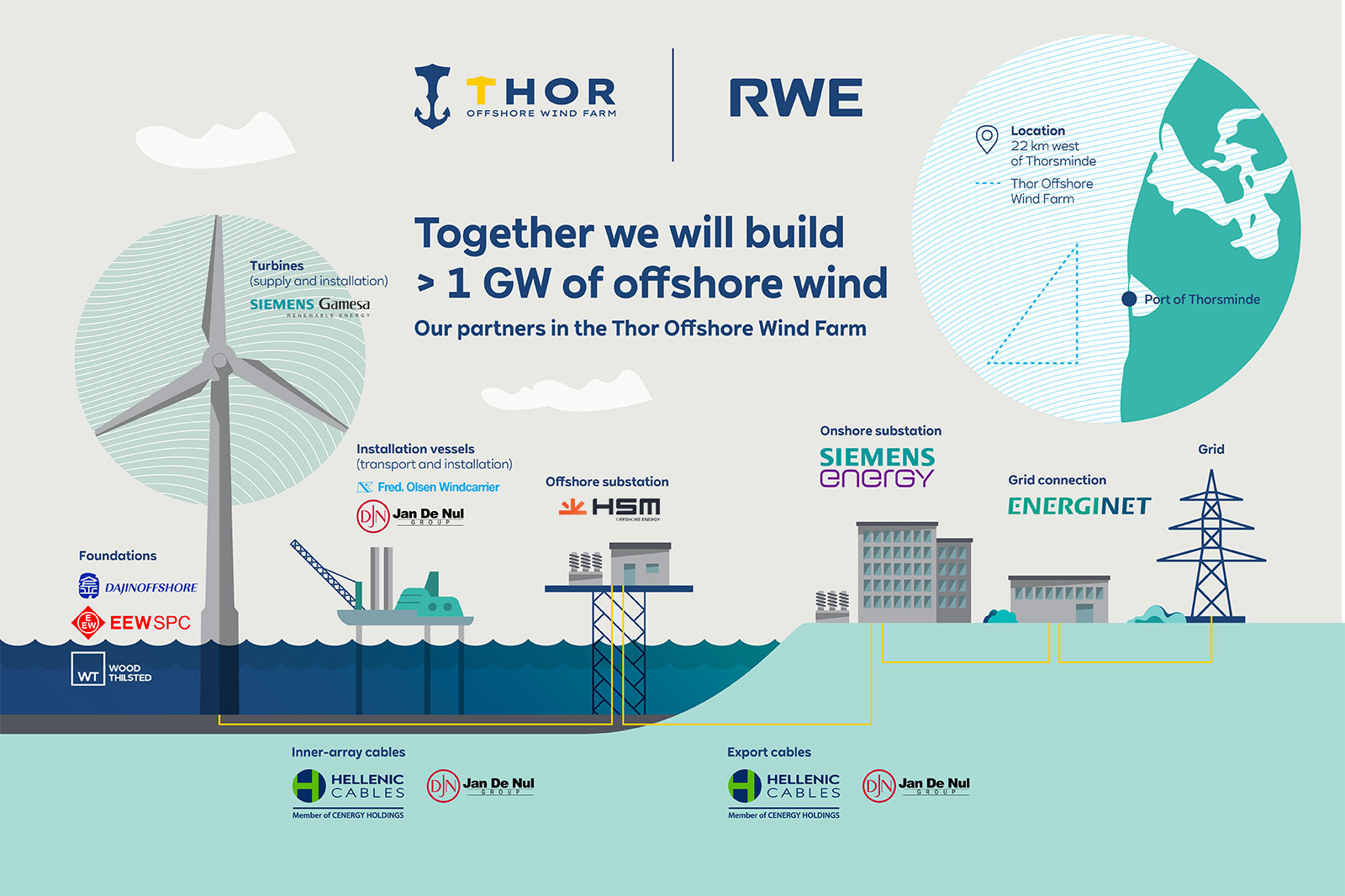 Transmission system
A consortium between Hellenic Cables and Jan De Nul Group will provide the entire cable package. The two companies will manufacture and install 60 kilometres of export cables on the 30-kilometre-long cable route from the offshore wind farm to shore and approximately 200 kilometres of inter-array cables, connecting the turbines to the offshore substation. Offshore installation and commissioning of the cable system is expected in 2025.
In addition, the consortium will manufacture and install the onshore cables from the landfall to the onshore substation, which will be built by Siemens Energy in the municipality of Lemvig. Siemens Energy will carry out the civil engineering and construction work together with MT Højgaard Danmark, one of Denmark's leading companies for large-scale building and infrastructure projects.
HSM Offshore Energy has been selected for the engineering, procurement, construction, installation and commissioning of the offshore high voltage substation and its jacket foundation. Installation of the jacket foundation and substation topside is expected to take place in 2025 – followed by the commissioning and testing of the offshore substation in 2026.
Installation vessels
"Les Alizés" is a purpose-built vessel designed for transporting, lifting and installing wind turbine foundations. It will be the largest heavy lift vessel in Jan de Nul's fleet. With the ability to lift up to 5,000 tonnes and with a deck loading capacity of 61,000 tonnes, it is future-proofed by being capable of handling the scale and design of future foundations that will support the next generation of wind turbines.
For the turbine installation, Fred. Olsen Wind Carrier will make use of one of the two Tern class installation vessels, which by the time of the project execution, will feature a new and upgraded crane with a lifting capacity of 1,600 metric tons at 31 metres as well as other upgrades to the vessels including jacking system. The new crane is fully electric and has a lower environmental footprint.